August 2022
August finally arrived and it has been very dry, with a sprinkling of incredibly hot mixed in. For this reason I have decided to postpone our greens maintenance until the first week of October. This decision was not made lightly but because we have a finite amount of water available to us via our lakes.

When you combine this with the extended period of dry weather, our water levels are lower than usual at this time of year. Greens maintenance during our current weather pattern would require a lot of water to aid with recovery, and I'm not sure we would have enough water to see us through the rest of the summer. So following conversations with Course Manager Chris Brook and David Hobbs we reluctantly agreed to push maintenance week back to give me the chance to maximise the remaining water we have. Greens are my top priority and I have already begun to ease back the water usage on tees and approaches.

Last week we put a 10mm solid tine into the greens twice - once at the beginning of the week and again at the end; this combined with a wetting agent that was sprayed after should help us to maximise our water input on the greens. Next week I plan to carry out a light scarification and topdressing to help keep our greens true and quick and in the best of health.

Finally, I would like to say a heartfelt thank you to everyone who has asked after me or made contact during the last five months while I have been undergoing a few spinal issues. It has been a tough time but hopefully all behind me now. I would also like to thank the entire greenkeeping team here at Nizels who under the leadership of my Deputy Lewis Reed have done an absolutely fantastic job maintaining our course and keeping it in its best condition while I have been absent.

Paul Shepherd, Course Manager
May 2022
Introduction
Spring is finally fully in bloom, with leaves on the trees and the grass growing - and boy is it growing! As I'm sure many of you are aware, I am currently off recovering from surgery and due to complications will now require another surgery soon. However, I have been in contact with my team and have also more recently been able to pop in and have a look about, and all I can say is the in my absence Lewis and the rest of the team have done a fantastic job in transitioning the course from winter to summer and deserve all and any praise directed firmly at them. All bunkers are now back in play and have made Nizels a much better and challenging course - I hope like me you consider them nothing but a complete success.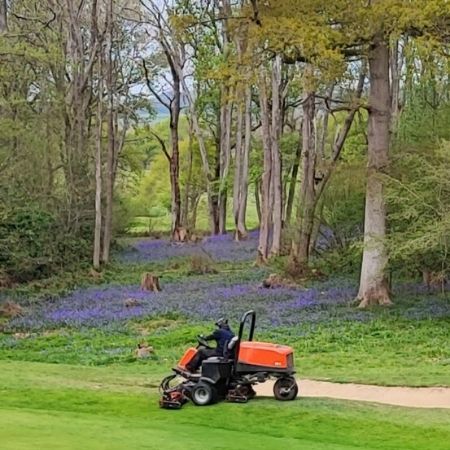 Greens
The greens have come down in height to 4mm, which with the exception of certain competitions will be their summer height every year. They have been fed with a slow-release fertilizer and will shortly be fed with another non-slow-release fertilizer just to help outgrow any springtime disease we will have. Due to the recent good weather we have started using our irrigation system, and any areas the need that little bit extra water will be hand treated by one of the team with a hose.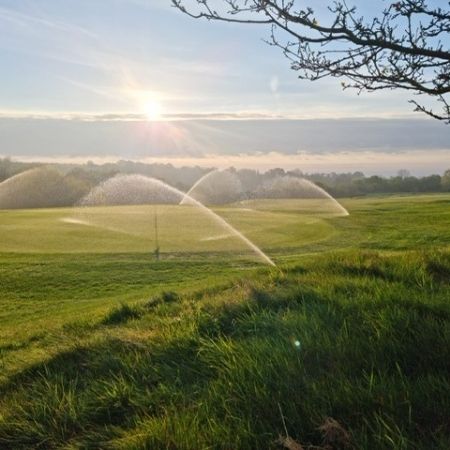 Tees
The tees have all been heavily seeded and devoted, and as the season continues this will be done on a day-to-day basis. The divot bags are also back in use but unfortunately one of the holders was blown over in the recent high winds and needs to be repaired. This will be back out on the course as soon as its fixed, but please remember to take a bag with you, and even if it's not one of your own divots please use the divot mix as we often have full bags left in the bag bins. The lads have removed some of the hawthorn bushes at the bridge on the 10th so now you have a better view of the green. They have also cleared around the pond on the 17th, again to give a better view of the green.
Team Announcements
We have a new member of the Greenkeeping team - his name is Roland so if you see him out on the course give him a wave and say hello.
Member Notices
Please remember the three most important things that all golfers should be doing to help us maintain the course and keep it in its best condition:
Replace or repair your divots
Repair pitch marks
Rake the bunkers after you have been in them
That's all from me for now - we have some small projects planned for later this month but I would rather report on them when completed. I hope you enjoy your golfing at Nizels and the absolutely stunning views of the bluebells on the 16th, and I look forward to seeing you all soon.
Paul Shepherd, Course Manager