Friday 24th September 2021
While the summer may be behind us, as we head further into autumn and the mild weather continues there's a wonderful feeling of optimism in the air. It brings me great happiness to see your smiling faces again after so many months behind screens and masks.
If you're looking to get back into a healthy routine this autumn, there's no time like the present. We've listed a few reasons why September is our favourite month to get active and make some lifestyle changes, plus a few healthy recipe ideas should you need inspiration in the kitchen.
While we may still have some challenges ahead, we're planning to return stronger and fitter as a club and as a team. We have learnt so much about resilience and what's really important in life and are committed to making sure our CARE club values underpin everything we do.
Team members
We have many new teammates onboard and are undertaking training throughout the club to improve our service levels. Please do keep letting us know how we're doing by using our FeedItBack surveys. Congratulations to Cherise and Lydia who both won our Teammate of the Month award last month.
The Aura team welcome some new teammates this month and we temporarily wave goodbye and congratulations to Zoe, who recently left to go on maternity leave and has just given birth to a beautiful baby boy! A big congratulations also to greenkeeper Richard on the birth of his baby boy, Maximus.
Launch of Family Club
We are launching our Family Club this month to enhance our family offering with a timetable of activities for all ages. We recently increased our family swim times and now start at 10am at the weekend, with Friday evenings extended to 7pm. Friday is Family night at the club and we'll be showing a family movie every Friday at 5.30pm, so it's a great way to start your weekends together. Junior golf is now on the timetable and so are some pre and post-natal classes. The new Club Junior timetable has now started, so make sure you explore all the classes on offer. Teen Gym is becoming very popular and we have added additional teen classes as well.
Closing and opening times
The club closing time has now been extended to 10pm Monday to Thursday and back to 9pm on Fridays, Saturdays and Sundays. We are also open at 6am weekdays and 7am on the weekends too. The crèche hours have also been extended as we get busier.
Events and activities
We would like to invite you to our Family Open weekend on 25 th September where we will be showcasing our new junior timetable classes and hosting family activities in the Pulse Bar.
24th September sees the return of our Club Quiz and on 8th October we have our first party of the year – an 80's evening! If you came to our Adele and George Michael party then you will love our 80's evening as the same entertainers are returning in several different guises this time!
Christmas party bookings are underway so do e-mail Laura for more details and to make a party booking on [email protected]. We do now have a meeting room available to hire so do contact reception to check availability in the diary if you wish to reserve this.
Lastly, keep your diary free on 5 th November for the return of our Bonfire & Fireworks Evening and childrens party - a night not to be missed!
A big thank you for all your support and please do not hesitate to contact me at the club to discuss any feedback or suggestions.
Best wishes and the best of health,
Nicky Linton-Briggs, Club Director
Crèche News
It has been a busy summer with our Swim and children's camps and a wonderful timetable of activities in the crèche to keep the young ones busy.
You asked, we acted
You asked if we could revert to pre -covid opening hours and stay open until 10pm. The club is now open until 10pm Monday - Thursday and until 9pm Friday - Sunday. The Club now also opens at 6am weekdays and 7am on weekends.
Some members asked if it was possible for the crèche to open again in the afternoons. The creche hours have now been extended on a Monday , Wednesday and Friday and we have also extended Family swim times to 7pm on Friday, starting earlier at 10am at the weekends too!
You asked us for copies of the new timetable. We will get some printed copies for you but in the meantime do make sure you have downloaded The Club Company App so you have up to date live class information. We do change our classes regularly so printed copies soon go out of date, but ask at reception if you need one for your fridge!
A few of you commented that there's too many no-shows in classes, which can be frustrating when you see spare bikes and you know there was a waiting list. We now operate a strike system where 3 no-shows in the same week with result in revoked booking rights. We're hoping this won't be used at all and people will remember to free up places if they can't make the class.
Welcome to new Personal Trainer Nicky
We recently welcomed Nicky Mumbray as a new Personal Trainer! Many of you will know Nicky already from attending one of her awesome classes or seeing her smiling face around the Club. Read more about Nicky's background, qualifications and motivations for becoming a Personal Trainer.
"I started my fitness journey in 1993 when I took my first qualification in 'Exercise to Music' whilst working full time in a London Bank. I added further modules and qualifications to enable me to teach a range of classes, such as Step, Indoor cycling and Body pump. I continued teaching group exercise classes when I left my banking job to have children, and continued teaching full time at various health clubs, including Nizels, until 2003.
I then stepped away from teaching, but always maintained my interest in sports and exercise and found a new love for running. I completed the London Marathon twice as well as various half marathons and 10ks. I returned to group exercise in 2017 and retrained in various disciplines before qualifying as a PT.
I am currently qualified in:
Exercise to Music, which enables me to programme various classes such as Body conditioning, Step and Legs, Bums & Tums
ICG indoor cycling
YMCA kettlebell Pro
Les Mills Body Pump
Les Mills Body Balance
TRX Suspension Training and Yoga Foundation
Level 3 Personal Training
I have an interest in all forms of fitness, but really enjoy highlighting the benefits of TRX and its versatility. I love how it's something you can take and do anywhere and get a full body workout and great strength in your core, and then combining that with kettlebells for a great workout.
If you train with me we'd work together to find out what style of exercise suits you best, and more importantly what you enjoy, before building on that to work towards your goals. I have been through various transitions myself over the years and have changed my training and diet in different ways to suit my interest at that time or any challenges I was training for.
I hope to be a small part of any journey or challenge you have set yourself and be there to support and encourage you, and to celebrate your victories along the way.
Being a PT is great as it allows me to meet and talk to new people, which I love to do! It also hopefully allows me to impart my enthusiasm for exercise and food and the benefits they both bring, and be a part of making a change.
If I wasn't a PT…without a doubt I would run a dog rescue facility, so they would be safe and loved and I could help them to find forever homes."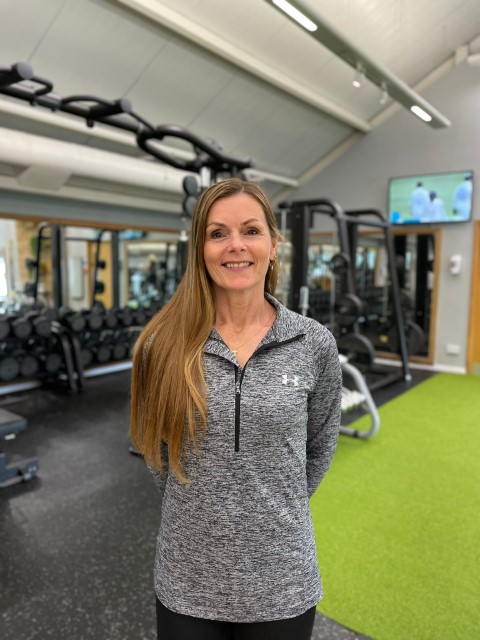 Aura Spa
We welcome Sadie our new Therapist who starts at the end of September. Sadie has worked in salons and spas for the last 8 years and is looking forward to starting in her new role at Aura!
In other news our Elemis Christmas gift sets will be arriving from next month, so come into Aura and start your Christmas shopping early! We've got your wellness covered, from skin care gift sets to candles!
Aura October Offer
Get back to feeling good this autumn. When you book a back, neck and shoulder massage this month, you'll receive a 40-minute hand or foot massage treatment completely free (worth £40!). In addition, anyone booking an eyebrow tint will receive a complimentary eyebrow shape worth £13!
A fresh start for your fitness
As we get back into a routine with work and school, many of us are looking to reboot a healthier lifestyle following a long summer of BBQs, holidays and summer celebrations.
Whether it's overhauling your diet, getting more sleep or restarting a lapsed exercise programme, September and October are great months to review your lifestyle and ensure your goals are still relevant and achievable.
Here's 5 reasons to make some changes this month:
The weather is still warm and the evenings are light
September usually still offers a good amount of sunny weather and daylight hours which helps you to feel energised – so there's no excuse not to lace up those running shoes or head to that early gym session!
You can establish a routine
With a return to a regular routine you might well be able to commit to a more consistent diet and exercise regime where scheduling workouts is a simpler affair
Your diary frees up
For many people, the autumn means fewer social engagements in the calendar which in turn means less distractions (and excuses!) from your goals and more time to keep yourself motivated.
Christmas is just around the corner
You might not like to think about it just yet, but Christmas is just a few weeks' away! Lots of people are eager to celebrate in style this year, so Christmas could be a great focus for achieving specific health and exercise goals – or the perfect way to reward yourself for staying on track!
Set yourself up for a better January
Before those New Year's Resolutions roll around, get stuck into healthy habits now while the weather is mild and the evenings are lighter, and you'll have more chance of sticking to your routine come January.
If you're struggling to start or resume a healthier routine, a personal trainer could provide just the motivation and accountability you need. Speak to our Wellness Team at the club to discuss the best options for you and how to get started. (link)
8 healthy recipes to try this autumn
Try out these healthy and nutritious recipes to get your diet on the right track this autumn. From soups to salads to stews, stay inspired with new recipes to try at home no matter what the weather.
Warm stilton salad
Autumn doesn't have to mean saying goodbye to salads. There's a huge range of hearty salads out there which don't skimp on flavour or substance. Give this delicious stilton salad a try while the days are still mild.
https://www.bbcgoodfood.com/recipes/warm-stilton-salad
Pork & apple stew with parsley & thyme dumplings
When the nights get cooler and a comforting meal is in order, pack in 3 of your 5 a day with this nourishing autumn stew seasoned with parsley and thyme.
https://www.bbcgoodfood.com/recipes/pork-apple-stew-parsley-thyme-dumplings
Leek & butter bean soup with crispy kale and bacon
Soups are a great and satisfying way to eat more vegetables in one sitting, as well as being easy to prepare. Put a few portions in the freezer for easy access to a healthy dinner on those busy days.
https://www.bbcgoodfood.com/recipes/leek-butter-bean-soup-crispy-kale-bacon
Sesame salmon, purple sprouting broccoli & sweet potato mash
For a dinner rich in protein, omega-3 and antioxidants, look no further than this wholesome sesame salmon recipe. It couldn't be easier to prepare, making it perfect for a mid-week family feast.
https://www.bbcgoodfood.com/recipes/sesame-salmon-purple-sprouting-broccoli-sweet-potato-mash
Vegan Shepherd's Pie
This hearty veggie pie doesn't compromise on flavour. Packed with vegetables and finished off with a zesty breadcrumbs, it's the perfect answer to a chilly autumn evening.
https://www.jamieoliver.com/recipes/vegetables-recipes/vegan-shepherd-s-pie/
Pumpkin soup
What better way to get into the Halloween spirit than with a warming bowl of pumpkin soup? This creamy and nutritious soup peppered with fennel seeds and chilli flakes will keep you full without compromising on flavour. If you can't get your hands on a pumpkin, this recipe also works well with butternut squash or sweet potato.
https://www.delicious.com.au/recipes/no-chop-pumpkin-soup/seblnp2r?r=recipes/collections/autumnrecipes&c=f3bf723a-05a7-487d-bd4b-5bc8af042ca9/autumn%20recipes%20you%27ll%20fall%20in%20love%20with
Curried cod
Try this low-calorie cod recipe packed with iron with a chickpea base for a simple mid-week supper.
https://www.bbcgoodfood.com/recipes/curried-cod
One-pot prawn and noodle stir fry
Prawns provide an excellent source of protein, vitamins and minerals. Give this easy prawn stir fry with leafy greens a go when you need a simple but nutritious supper.
https://realfood.tesco.com/recipes/one-pot-prawn-and-noodle-stir-fry.html